Flemington dental surgery
When you smile, do you find that your gums are too prominent? If so, it can seem as if your teeth are too short, but that's not really the case. The problem is that you have excess gum tissue. Here at Trecartin Family Dentistry, one of the many valuable services we provide is a procedure called crown lengthening. It's a simple and effective way to correct what is often called a "gummy smile."
In addition to the cosmetic benefits of our
Flemington dental surgery
, there are also reasons for having it done that are associated with your oral health. For example, too much gum tissue can make it difficult or even impossible to put on a dental crown, a particularly large filling, or to address a tooth that is broken below the gum line. Excess gum tissue can even interfere with the placement of bridgework. Our Flemington dental surgery will change the situation, so that more of your natural teeth are visible and accessible. It is performed under sufficient local anesthesia, so you can be confident that you will remain comfortable during the procedure. The gum tissue that you do not need, and which is causing you to have a smile that you're dissatisfied with, will be removed as part of the process. As with any type of oral surgery, you may experience some degree of minimal discomfort after the anesthesia has worn off, so we recommend that you use over-the-counter pain relief medication to manage it. You should stick with a soft diet for at least the first 24 hours after. Choose options like broth, pudding, and gelatin. In about 7 to 10 days, you will have your stitches removed. Full healing may take up to a few months, but you will be able to resume your normal routine once the stitches come out.
Book an appointment for a consultation and examination to find out if our
Flemington dental surgery
is right for you.
By Trecartin Family Dentistry
March 6, 2018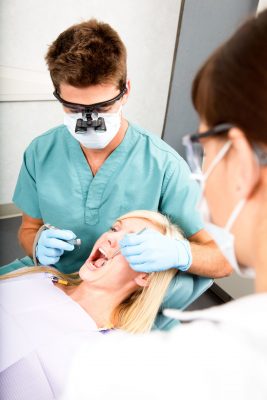 Blog Posts
Follow Us